About Coliseum Chiropractic
Our Mission
The mission of Coliseum Chiropractic is to provide outstanding chiropractic care to help each patient achieve a pain-free life. Helping each person we encounter achieve their own unique goals through our care is what we're here to do, and we are grateful for the opportunity to make a difference in people's lives.
Our History
Dr. Chad Porter was born and raised in West Virginia, and, after receiving his Doctor of Chiropractic degree from Parker University in Dallas in 2017, he was determined to come home to practice. After a few years as an associate, he opened our practice in 2021. He's passionate about providing life-changing chiropractic care to entire families, so he can help our community thrive.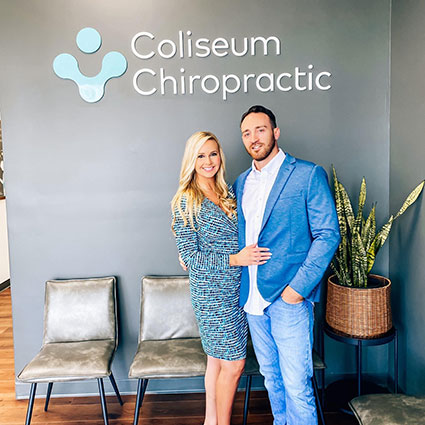 You're Not Just a Number
One thing you'll notice is that our office is laid-back and casual, and we take our time with each patient. You're not treated like a number and rushed through the process. We get to know you and find out how your pain impacts your life, so we can design a care plan that meets your unique needs.
No matter what your health goals are, we'll do whatever we can to help you achieve them. And if we can't help you, we'll get you on the right path with someone who can.
We Want to Help You Flourish
Patients often come to us when they've all but given up hope of feeling "normal" again, and they're shocked at how much better they feel after just one or two adjustments. We love it when these same patients opt to take their care beyond simple pain relief and continue with ongoing chiropractic care, so they can truly flourish and achieve their optimal health.
Schedule Care Today
We make getting the care you need convenient and affordable. We are in-network with most insurance plans, including Medicare and Medicaid. Contact us today to get started with care.

About Coliseum Chiropractic | (304) 244-5575