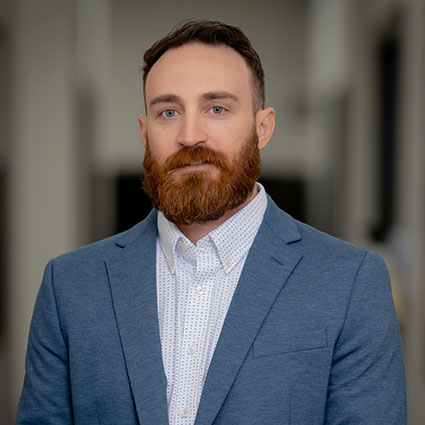 Meet Dr. Chad Porter
Born and raised in West Virginia, Dr. Porter attended Liberty University in Lynchburg, Virginia, where he earned a bachelor's degree in biology and competed as an NCAA Division I collegiate wrestler. Although he had experienced chiropractic adjustments before, he never thought much about them. Then, while he was in college, he got a job working as a Chiropractic Assistant in a chiropractic clinic.
It started as nothing more than a college job, but as Dr. Porter began to see the life-changing results patients received through chiropractic care, his interest was piqued. The more he learned, the more he wanted to help people in the same way.
Dr. Porter attended Parker University in Dallas, TX, and graduated with his Doctor of Chiropractic degree in 2017. He began practicing that same year, and then opened Coliseum Chiropractic in 2021.
Taking a Full-Body Approach
When Dr. Porter first started his chiropractic journey, he thought chiropractic care was simply an effective way to manage pain. This is what many of our patients believe. With education and experience, he now knows that chiropractic care is a full-body healthcare approach that optimizes the nervous system so that the brain and body can communicate as they should, allowing optimal healing and function.
Dr. Porter strives to help patients understand the powerful benefits of chiropractic care in their own lives. Helping patients overcome pain and dysfunction to achieve their long-term health objectives is what Dr. Porter loves most about being a chiropractor. He is passionate about providing care for families and helping give children a healthy foundation for life from the beginning.
EXPLORE OUR SERVICES
In His Spare Time
When he's not at work, Dr. Porter loves hanging out with his wife and two small children. He also enjoys bass and trout fishing.

Dr. Chad Porter | (304) 244-5575